Feminine perfume based on the rose, like the Elie's creations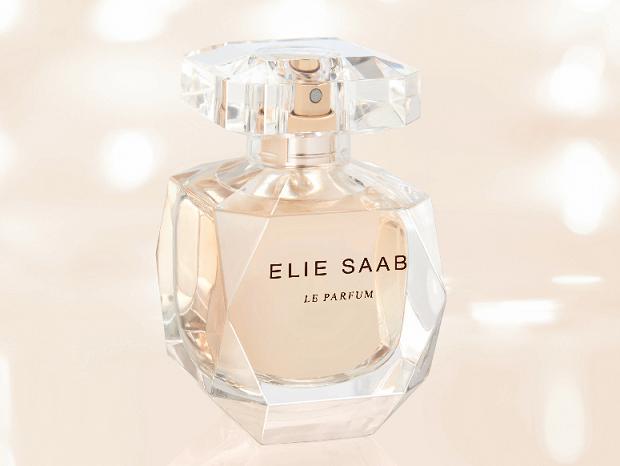 Elie Saab Le Parfum
Great name – great expectations. I need to admit that I have waited unpatiently to try it. I have tested it for the first time on a sample which was in Italian Vogue. Some say that it is the best women's perfume launched in 2011., is that so?
_____
Veliko ime, velika očekivanja. Moram priznati da sam s nestrpljenjem želio probati ovaj parfem, prvi puta sam ga pomirisao na testeru iz talijanskog Voguea, ali nije to bilo to. Neki kažu da je i najbolji ženski parfem lansiran u 2011. godini, je li to tako?
Anja Rubik for Elie Saab
What a beautiful dresses Elie makes, he is really one of the best. If he wanted to be as good as in fashion, he would have hired one of the best in that field. He hired one of my favourite perfumers – Francis Kurkdjian. Kurkdjian is best known because of his emotional approach toward perfumery. While he was making a perfume, he hadn't pictures in his head, he was driven with sensations and emotions dresses gave him. At the time of making, he had emotions of the whiteness, pureness and sensuality. That's the reason he is among the best, he has beautiful imagination and he knows how to translate that imagination to the liquid.
There were 279 trials before the final composition and they waited the launch till both of them didn't agree on the scent. Well, for such number of trials, which even Chanel No. 5 didn't have, we would have expected something more particular. The perfume itself is the reminiscent of Elie Saab as a brand – his creations, dresses, ultimate femininity and sensuality. The perfume is just like his dresses, gentle, subtle, elegant and captivating. The opulence in Le Parfum is very interesting because it is dominated by rose and vanilla. It surrounds you very quickly and leaves the trace behind.
§
Koje prekrasne haljine radi Elie, stvarno je jedan od najboljih. Da bi bio dobar i na području parfema, uzeo je također jednog od najboljih, i meni osobno najdražih – Francisa Kurkdjiana za parfumera. Kurkdjian ima poseban pristup parfumeriji baziran na emocijama. Za stvaranje parfema uopće nije imao slike i vizije u glavi, nego se vodio samo za osjećajima i senzacijama koje su mu davale haljine. Prilikom izrade parfema, u sebi je sadržavao emocije bijeline, čistoće i senzualnosti. On posjeduje vrlo bogatu maštu, a razlog uspjeha je to može tu istu maštu pretočiti u tekućinu.
Napravio je 279 probnih verzija parfema i tek kada se svidio njemu i Elie, pušten je na tržište. Samo, za toliki broj formula koje nije imao niti Chanel No. 5, očekivalo bi se možda nešto malo zanimljivije. Sam parfem bi trebao odražavati sliku Elie Saab kao branda, njegovih kreacija, haljina, ultimativne ženstvenosti. Raskoš u Le Parfum je interesantna jer dominira ruža i vanilija. Uvija se oko kože prilično brzo i ostavlja mirisni trag.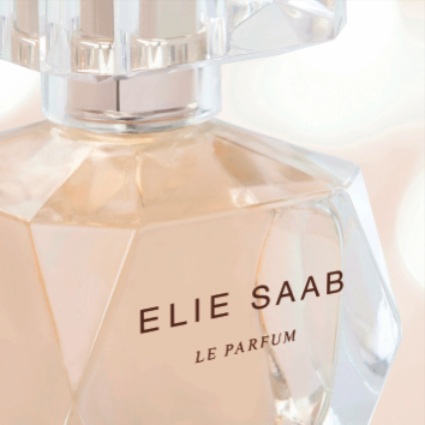 Elie Saab Le Parfum
Even though I like Francis Kurkdjian very much and I appreciate him as the perfumer, he didn't make masterpiece this time. The expectations for this perfume were set high as soon as it was announced. The perfume is really nice, even more than just being nice. It will and it is already worn by many girls and women because it suits up perfectly along with casual, elegant or luxorious look. The reason why it suits most of the types is because of its femininity it projects. Le Parfum speaks the flirtatious and seductive language. The hidden ace of Le Parfum is in its refined elegant smell. It's very "Frenchy" scent, something that Parisian woman would want to wear. That is the connection with his fashion line. It is very classic composition because the structure is focused on the traditional French bouquet. The heart notes can be found in the traditional French perfumery. Yet, this is the modern interpretation.
I would enlist it as the part of woody-floral-musk group. The perfume has obvious Kurkdjian's signature; musk and rose with the hints of orange flower. Beautiful floral bouquet starts to develop as soon as the jasmine joins the rose in the heart notes. Traditional French bouquet composed of the rose, jasmine and labdanum are forming thick floral heart while more fresh and sweet notes are making it more appealing. This perfume is between Narciso Rodriguez For Her and Versace Crystal Noir. Rodriguez because of its heart floral anotes and Versace because of its musky finishing. It's not extravagant nor avant-garde perfume, but it has something very delicious and irresistible. Its classicism is not boring, it is very appealing. On the other hand, its aesthetics is not ground braking and we have faced similar scents many times before. It is about femininity but not about absolute femininity as the commercial suggests. It has the power and charm to be the modern classic. It's a perfume that will be worn by many women that want to feel attractive, feminine, seductive. It's their full right becase Le Parfum is about that. I would like to see more "brave" creations in the future from Elie Saab's house. That doesn't mean Le Parfum is no good, the problem is in the market. Le Parfum is the perfume that will make you feel wanted, irresistable and Parisian wherever you are and it will attract many looks at you. I hope you are willing to take the risk because you will be ultimately chic, especially with the musky finishing on your neck.

§
Iako cijenim Francis Kurkdjiana kao parfumera, ali i osobno, ovaj puta nije uspio napraviti kreaciju koja bi se mogla svrstati uz bok nekim "plemenitijim" parfemima. Očekivanja za ovaj parfem su bila postavljena vrlo visoko, odmah nakon objave kako Elie Saab proizvodi svoj miris. Sam parfem je lije, ali i više od toga da je "samo" lijep. Bit će i već je popularan među mnogobrojnim djevojkama i ženama jer sam miris savršeno odgovara casual, elegantnom ili luksuznom izgledu. Razlog popularnosti i univerzalnog "sviđanja" ležu u ženstvenosti koju projicira. Le Parfum govori seduktivan i zavodnički jezik. Posjeduje u sebi vrlo "francuski" miris, nešto što je prijašnjih godina bilo opisivano kao miris parižanke. Tu se može vidjeti direktna povezanost fashion linije sa samim mirisom. Vrlo klasična kompozicija jer je struktura fokusirana na tradicionalnom francuskom buketu. Note iz srca parfema se mogu pronaći u tradicionalnoj francuskoj parfumeriji, no, ovo je moderna interpretacija klasike.
Svrstao bih ga kao dio drveno-cvjetno-mošusne grupe. Parfem posjeduje vrlo očit mirisni potpis Kurkdjiana; mošus i ruža s malim tragovima narančinog cvijeta. Lijep floralni buket se počinje razvijati čim jasmin dođe u dodir s ružom u srednjim parfemskim notama. Tradicionalni francuski buket je sastavljen od ruže, jasmina i labdanuma i formira gustu srednju bazu dok su svježe note postavljene da učine miris više interesantnijim. Ovaj parfem je između Narciso Rodriguez For Her i Versace Crystal Noir. Rodriguez zbog floralnih nota i Versace zbog mošusne baze. Nije ekstravagantan niti avant-gardni parfem, ali posjeduje određen ukus i neodoljivost. Klasicizam ovog mirsa nije dosadan, dapače, vrlo je privlačan. S druge strane, njegova estetika nije očaravajuća i suočili smo se s velikim brojem sličnih mirisa nedavno. Glavnu ulogu ovdje igra ženstvenost, ali ne apsolutna ženstvenost kao što reklamna kampanja sugerira. Posjeduje snagu i šarm da bi bio moderan klasik. Le Parfum je tip mirisa kojeg će nositi velik broj djevojaka koje žele miris atraktivnosti, ženstvenosti, seduktivnosti. I to je tako s pravom je Le Parfum upravo to. No, volio bih vidjeti malo hrabrije kreacije iz Elie Saab kuće u budućnosti. To ne znači da Le Parfum nije dobar miris, problem je u tržištu. S njim ćete se osjećati poželjno, neodoljivo i pariški ma gdje god se nalazili i povrh svega, privući će poglede. Nadam se da ste spremni preuzeti taj neodoljiv rizik jer ćete biti chic, pogotovo s mošusnom bazom na Vašem vratu.
Artistic impression: Good
Direction: Modern classicism
Type: Woody – floral – musk
Quality of raw materials: Very good
Note: The perfume based on thick floral notes from the traditional French perfumery, feminine, seductive

Perfume notes I sense: vanilla, rose, jasmine, orange flower, labdanum, musk, patchouly
Juraj, BL'eauOG
pictures: mimifroufrou.com
harrods.com
atouchofblusher.com